This page is set up for our available pugs for adoption.

If you see nothing on this page it means they all have found forever loving homes.
Adoption fees are:

1 year and under is $450
13 months to 5 years $350
5 years 1mo to 8 years is $250
8 years 1 month and over is $150

Any pure breed that is bred to create a "designer breed" for example- puggles, Chugs, Jugs, etc- as of March 1, 2007 their adoption fees will be $250.00 until age 7yrs then the adoption fee is $150.00.

The adoption fee for Bonded Pairs will be based on the age of the older pug.

Adoption fees are to be paid in cash, Money Order or Bank Check. No personal checks are allowed.
If you are interested in any of these pugs- PLEASE fill out the application and mention the pugs name on your application.
YOU MUST LIVE IN VERMONT, MAINE, NEW HAMPSHIRE OR NORTHERN NEW YORK ON I-90 CORRIDOR TO BUFFALO AND I-87 NORTH TO CANADIAN BORDER TO ADOPT.
For more information Contact Judy Douglas 802-786-5337 or puginmud@msn.com


---
Spotlight Pug

Meet Sissy, Pug #83-13

Sissy is a sweet 9 yr old very petite female who was surrendered to GMPR. Sissy originally came from a puppy mill in AK, where the very poor conditions she was forced to live in resulted in her losing an eye and the sight in the other. Despite being blind, Sissy has a heightened sense of smell and gets around really well and seems to be just happy to be one of the lucky dogs to escape puppy mill life! She is housetrained and is always so happy when she is around humans and other dogs. Sissy deserves a loving home and will make a wonderful companion to some lucky person willing to open their heart to her.
Sissy does required eye medication twice a day.

She is fostered in Morrisville, VT and her adoption fee is $150.
---
Spotlight Pug

Meet Maya,Pug #42-13.

Adoption Pending



Maya is a sweet little 8 year old pug who was surrendered in love. Her family had fallen on hard times and had to move to a place where they could not keep her. Maya is a tiny little girl who has some motor issues with her back legs. She is wobbly and and does have some fecal incontinence.

We have obtained 3 veterinary opinions regarding Maya. Vet, Veterinary Surgeon, and Veterinary Neurologist/Surgeon. She has some scar tissue and bulging in her middle back area. There is no surgical fix for Maya's neurological problem. She is not in any pain, but has weakness in her hind legs. This is a problem that is oftentimes seen in pugs. With lots of daily walks, weight loss, and perhaps hydrotherapy down the road, Maya will go for several years before she may require a wheelchair. Maya needs a loving family that is willing to put up with her leaving Tootsie Rolls on the floor and accept that she has special needs. We have a copy of her MRI and full medical history for whomever decides to adopt her. They don't come any cuter than Maya and one look will steal your heart! Maya is very typical of middle age pugs. We call it middle age pug weak hind leg syndrome. If you love pugs and understand what they are all about, please consider adopting Maya. Can we say Cute? We have been at this for a lot of years, and Maya is as cute and sweet as they come.

She is being fostered in Latham, NY and her adoption fee is $150.
---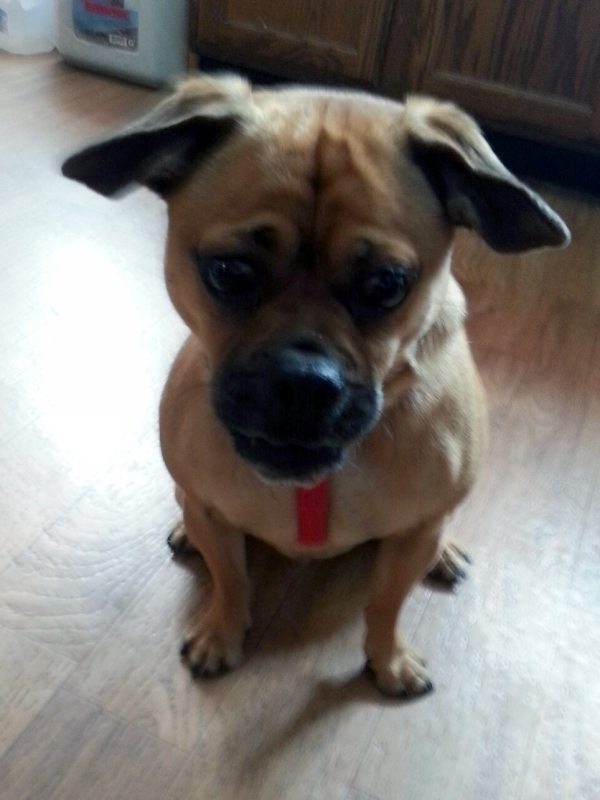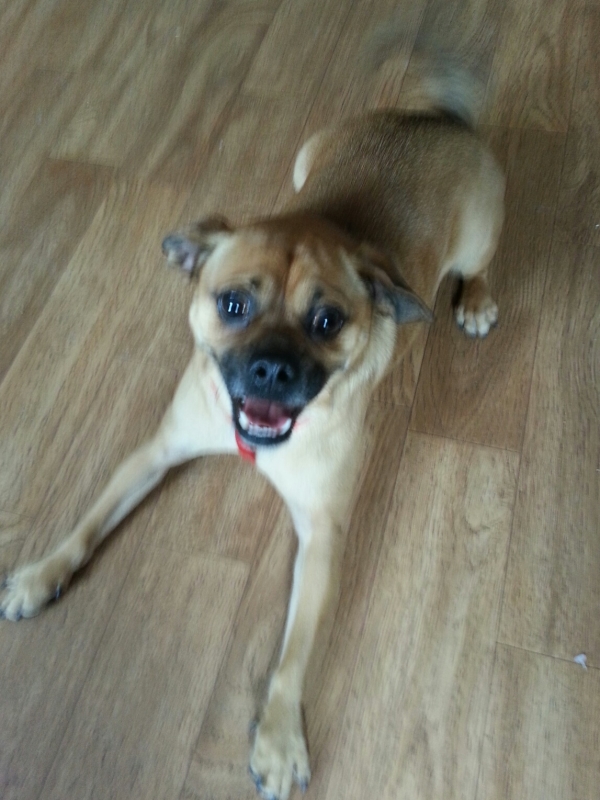 Meet Tahoe, Pug #14-14

Tahoe is a 2 1/2 year old male puggle.

Tahoe is fostered in Ashuelot, NH and his adoption fee is $250.

Here is a letter from Tahoe:

I am ready for this new journey and happy to meet new friends, both human and furry. I love to play with my Kongs and my blankey. I love to lick and jump. If someone gets down and greets me, I settle down very quickly. Please scratch my chest, it is my favorite spot. I also like having my ears rubbed. I love to go for walks, but pull a lot on the harness and would like to learn to walk loosely on the leash if you want to teach me. When it is cold, I like to wear my coat. I am used to sleeping in a crate, it makes me feel safe. I spent some time in training last fall and worked on sit, stay, lie down, and come. I am sometimes impatient when you have me stay and need bit of work on it. I am very food motivated and work for treats! I do have some issues that we are going to be working on in my foster home. I eat my food very fast and should be fed in my crate and separated from other dogs or children as I like to guard my food. If someone tries to pull me away from my food I get snarly and don't like it. The good thing is, when the food is gone, I am my happy self again. The Beagle side of me tends to make me want to bark a lot, but more socialization should definitely help that. I am still outgrowing some of my puppy habits and will chew inappropriate things if I am left by myself and allowed to roam. I need a family that is willing to work on my training and give me lots of love and patience. I really am a good boy and want very much to please you.

Licks & Wags,

Tahoe

-->
---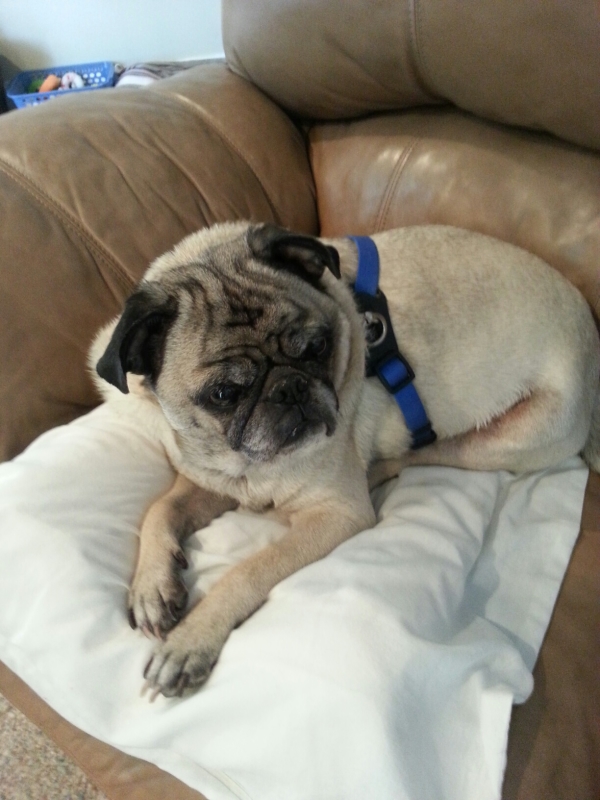 Meet Jack, Pug #13-14

Adoption Pending



Jack is a 7 year old male pug who was surrendered in Love. In December Jack developed pancreatis and diabetes. Jack's family was unable to continue caring for him and made the decision to have GMPR find him a new home. Jack is a big boy who weighs about 28 lbs (down from 34 lbs) He is socialized, housebroken, and just about the perfect, big, smooshy, pug boy. Jack requires a Prescription Diet and two insulin injections a day. He is otherwise healthy and very handsome.

Jack is fostered in Burlington, VT and his adoption fee is $250.
---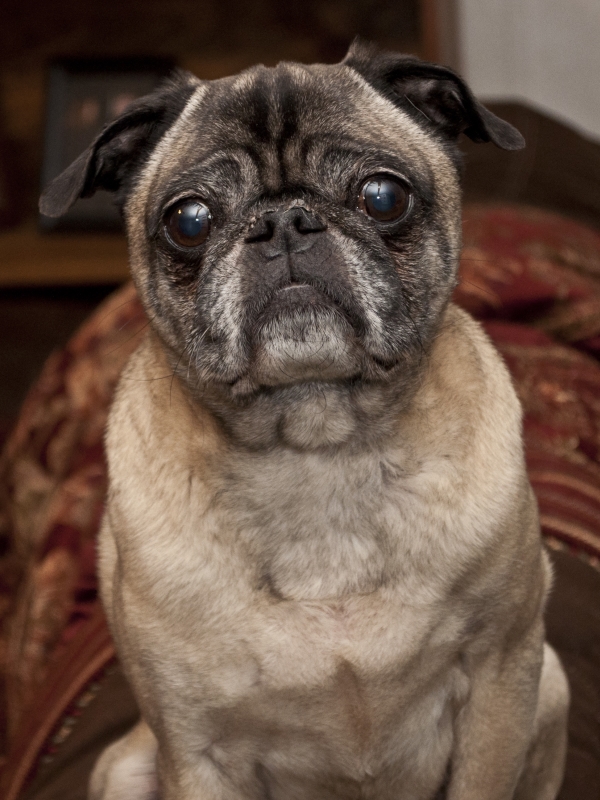 Meet Pumba, Pug # 11-14

Adoption Pending



Pumba is a 10 year old male pug who was surrendered in Love. Pumba's family was no longer able to give him the time he needs due to a new baby and changes in the family situation. Pumba is a very healthy pug and very fit. He is socialized, housebroken, and just a great great pug. Pumba has always lived with another very good pug buddy, so he will need a home with another pug or dog for companionship.

Pumba is being fostered in Chittenden, VT and his adoption fee is $150.
---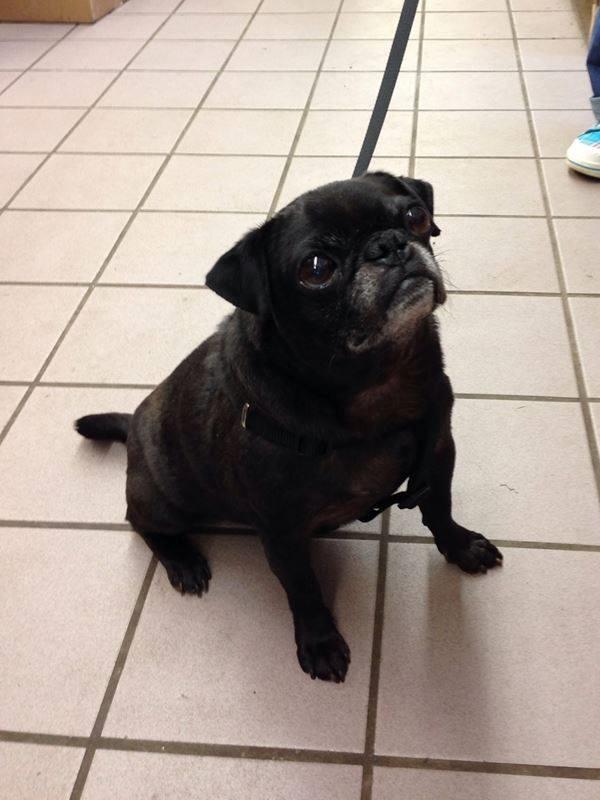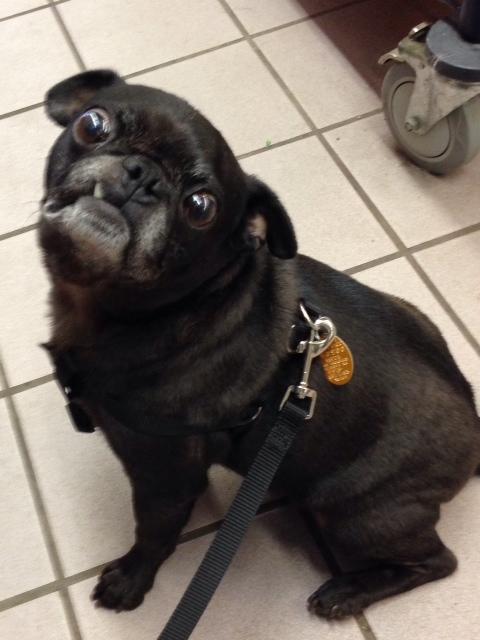 Meet Digby, Pug #10-14

Medical Hold



Digby came to us from the MA SPCA. He was dumped at Amimal Control and tied up to a fire hydrant so that someone would find him. Obviously the owners were worried about possible charges. MSPCA contacted us to take him as they are not prepared to deal with his serious skin problems. We took Digby to the vet today and the good news is that is it sarcoptic mange which is treatable although will take time to get all his hair back. He received an ivermectin shot today and will have 3 more treatments at 10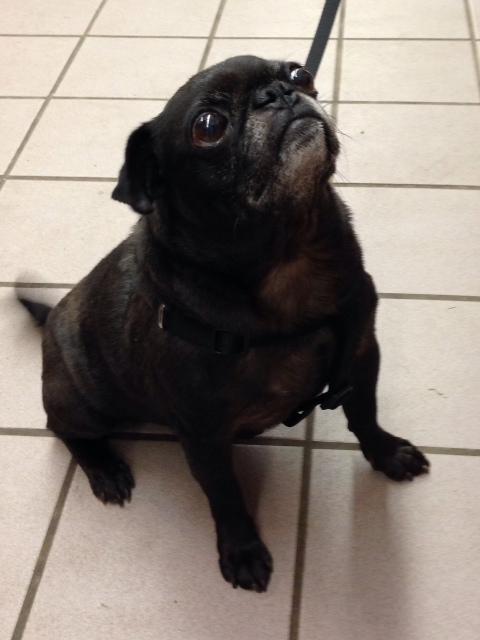 day intervals. He is also to receive medicated baths twice a week and is on the new wonder drug Apoquel to stop the itchiness. Digby is also on Cefalexin for the skin infections. Once he is better he will need a dental - His breath will stop a train! Also possible patella surgery, but will recheck that later. He weighs 12 lbs and is emaciated. Have put him on a Limited Ingredient Diet - Turkey & Peas plus omega oils. Digby is a very sweet boy with a hearty appetite and complete pug attitude.

Digby is approximately 4-6 years old and is fostered in Rutland, VT.

When ready, his adoption fee will be $250.


---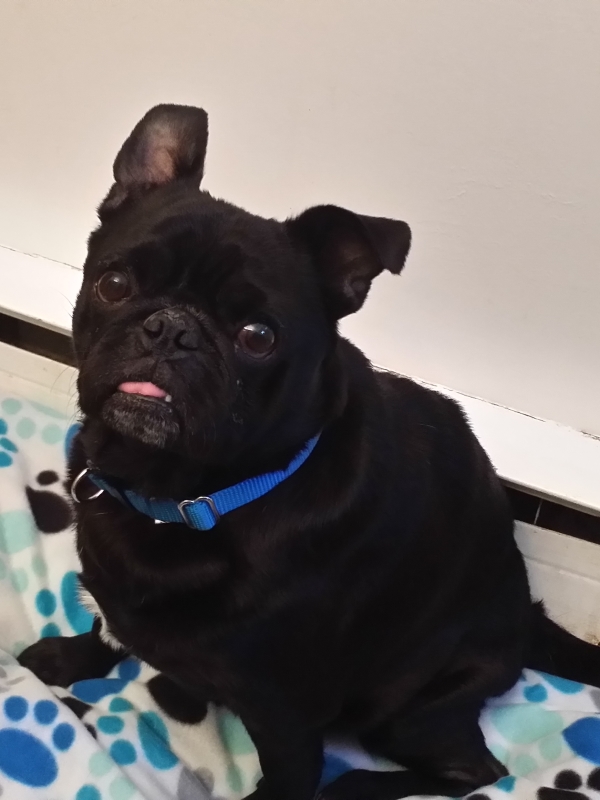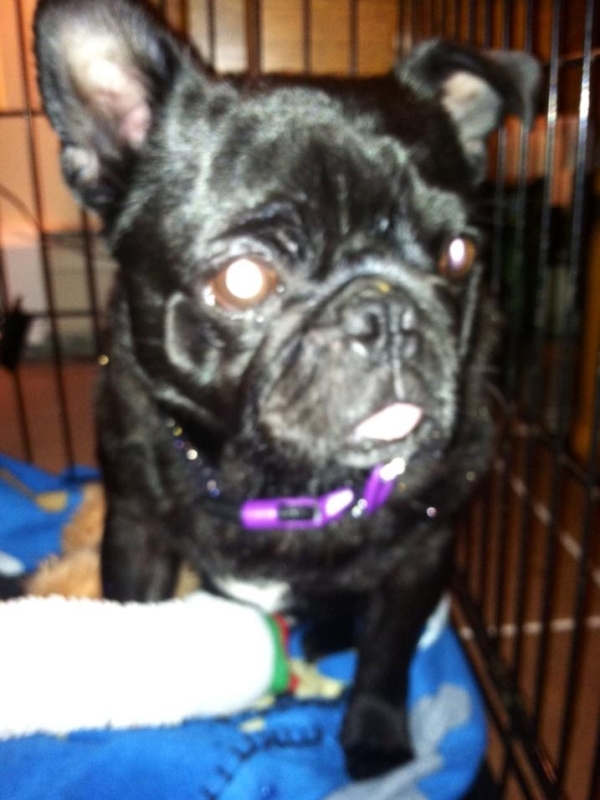 Meet Dude, Pug #9-14
Dude is a 5 year old male pug who was purchased off of Craig's List by a family that already has 2 pugs. Within 24 hours, they decided they had taken on more than they could handle and surrendered Dude to GMPR.
Dude was hit by a car last year and was never taken to the vet. He also has a serious urinary tract infection and needed immediate medical help. Dude will be evaluated by the vet and GMPR will address all his needs. As soon as he is fully vetted and well he will be ready for his forever home.
Update 2-24:
Dude saw the vet today and will need surgery to repair his hip and make him more comfortable.
He also has degenerative disc disease and more than likely will need a cart some day in the future.
He is a young dog 2-4 years old and healthy otherwise. He is about the sweetest dog you will ever meet - sticks like velcro. We feel that Dude is a Pug/French Bulldog Cross, but nonetheless absolutely adorable!
Dude is fostered in Albany, NY and his adoption fee is $250.
Dude's surgery will be very expensive, so donations are always appreciated.
---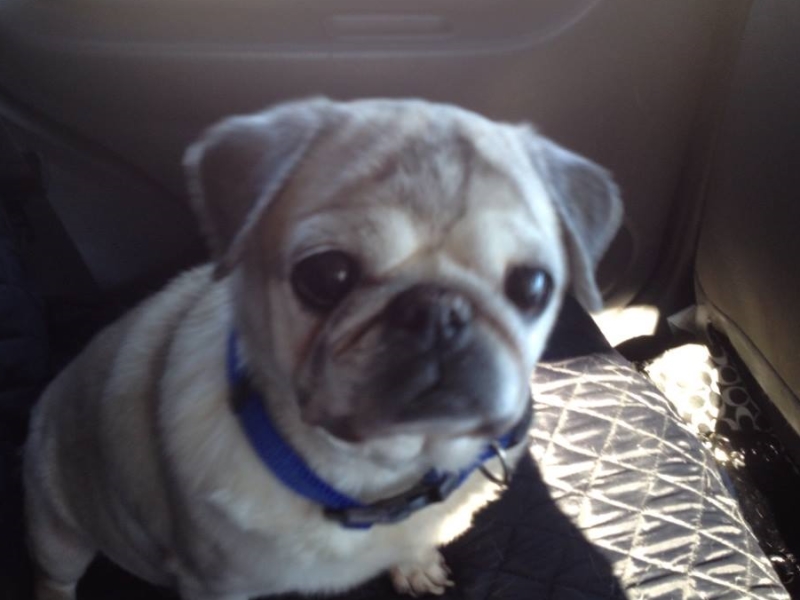 Meet Misty, Pug #8-14
Misty is an 11 year old female pug who was surrendered because her family could no longer care for her. Misty is a healthy, happy, lady, who is looking for someone to provide her a perfect home for her Golden Years. How can you not love this sweet pug, if you love pugs?
Misty is being fostered in Graniteville, VT and her adoption fee is $150.
Misty is eligible for our 70 for 70 program.
---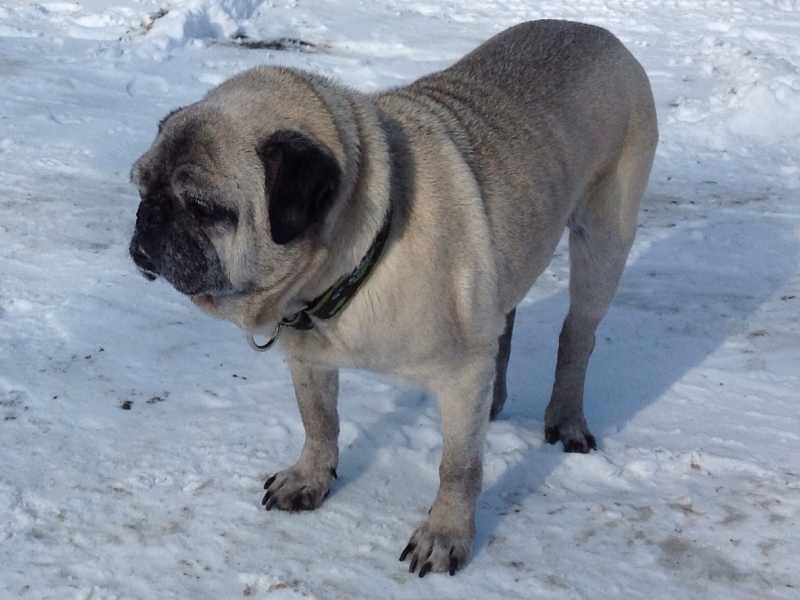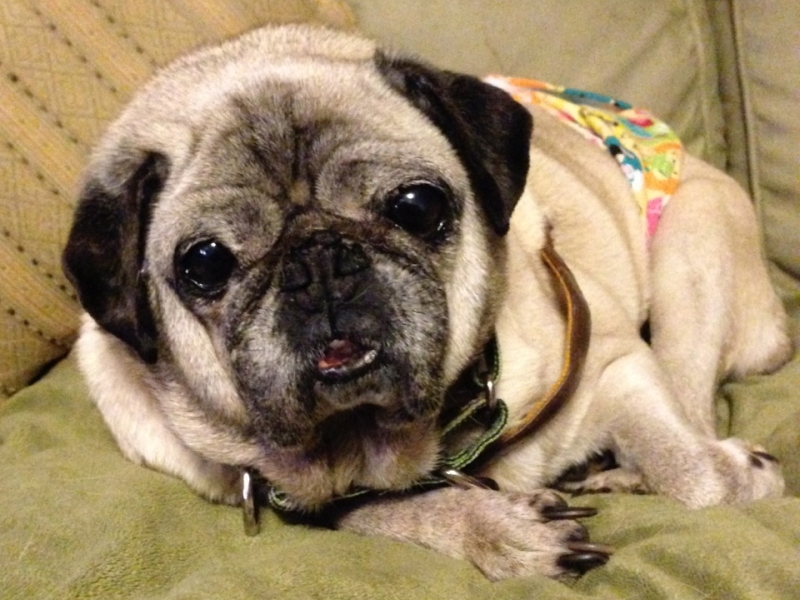 Meet Spice, Pug #3-14.

Spice is a 10 year old male pug who was rescued from a NYC Shelter. Spice is great with children of all ages, cats, and other dogs. Spice does need a refresher course with his housebreaking, but does well with a belly band to prevent messes. Spice is fully vetted and had extensive dental treatment. He is a healthy happy boy who loves lots of cuddling and is a true couch potato. Spice needs a loving home where he can live out his senior years being appreciated for the special pug that he is. If you love pugs and appreciate the joy that only a senior pug can provide, please consider adding some Spice to your home!

Spice is fostered in Berlin, VT and his adoption fee is $150.

Spice is also available in our 70 for 70 program.
---
Meet Pinky, Pug #114-13

Pinky is a 9 year old pug who was dropped off at the Brooklyn Animal Shelter for no apparent reason. Just in time for Christmas. Is that crummy or what?!! Pinky is very much overweight (we prefer full figured) and needs to lose a few pounds. She is spayed and the shelter brought her up to date on vaccinations. We are going to have a senior evaluation done to see if she requires any additional vet care besides the obvious dental.

Pinky is fostered in Vermont and her adoption fee is $150.
---
Meet Luther, Pug #110-13


Medical Hold



Luther is a puggle that came from a shelter in NC.

From his Foster Mom:
Introducing Luther! Six or seven year old Puggle from NC! Although I am convinced he is more or less a Pug/ Gargoyle hybrid. He is very mellow but also has an adorable playful side! Gets along beautifully with my three dogs and cat. So far he appears to be completely house broken. He just had a nice bath, which he tolerated well.He is morbidly obese and tested "strong positive" for heart worm, so he has quite a road to recovery ahead of him. We will be calling the vet first thing in the morning so he can begin treatment. We already love him to pieces!

Luther is fostered in Swanzey, NY and his adoption fee is $250.