---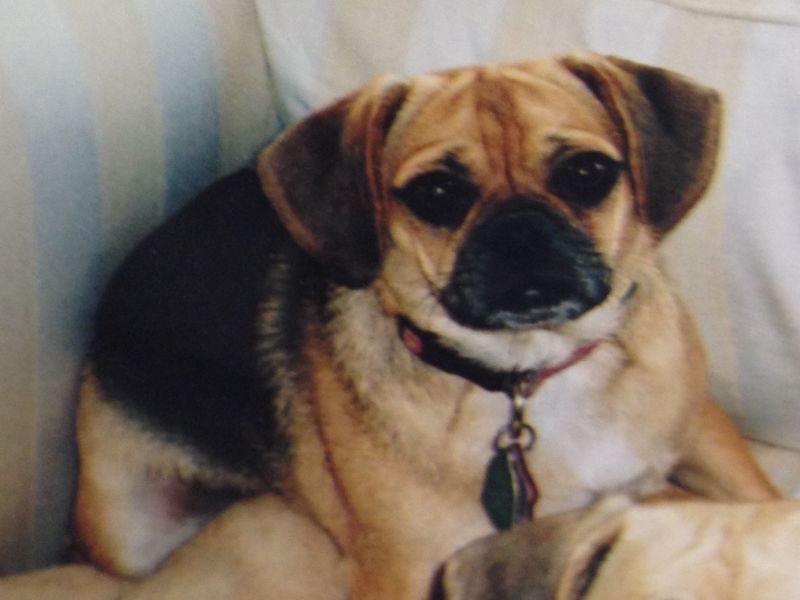 3-2-14 Reese has been adopted by Lynn Schlesinger of Plattsburgh, NY.

Lynn has always had rescued pets and was looking for a dog that would be a good fit for her family. She has two children, ages 15 & 8 years old. She also has a 4 year old Chihuahua/Pug and loves Pug Mixes. Tiny Reese is a perfect fit!
---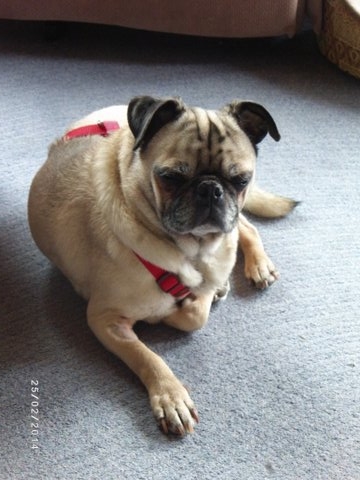 3-2-14
Bodhi has been adopted by Heather Bloechle and Family of Mount Holly, VT.

He joins two children ages 6 & 3 years old and a Staff Terrier for companionship. Heather has been looking for a pug for her kids and although she thought she wanted a young female, Bodhi stole her heart with his Perfect Pug Personality!
---
3-1-14 Pebbles has been adopted today by the Glover Family of Hinesburg, VT.
Pebbles is a high octane Jack Russell,Pug Mix who is going to enjoy having a family of boys to play with. There is also a cat and Belle, a Beagle/Fox Terrier to round out the family. Pebbles made herself right at home and was playing with the kids when we left.
Congratulations Glover Family, we are so happy that Pebbles has found her perfect forever home with you!!
---
2-17-14 Midas has been adopted by Peter and Jonara Parisey of Louden, NH.
It has taken Midas awhile to finally find his forever home, but he was waiting for just the right family. Midas has some personality quirks and is a work in progress. Peter and Jonara are prepared to help him become the perfect pug he is meant to be.
---
2-16-14 Our sweet Bonded Pair of Pugs, Asia and Kimora have been adopted by the Josh Reil Family of Marshfield, VT.
Asia (black pug) is the mother of Kimora (fawn pug) and definitely the Queen Bee and boss. The girls have been in foster care for quite awhile because typically, most people who apply to adopt a pug already have at least one and aren't looking for two. There are two children in the family under the age of 5 years old and Josh felt that mature pugs would be a better fit for them. Asia and Kimora are happy to each have a child of their own!!
---
2/20/14 Turbo has been adopted by Dr. Lee Pearson of Cheshire Animal Hospital in Keene, NH.
When Turbo's Foster Mom took him in to be vetted, Dr. Pearson fell in love! Turbo is just one of those dogs that you can't help but love! Congratulations Dr. Pearson and Turbo for a match made in heaven!!
---
2-22-14 Shelby has been adopted today by the Schadlich Family of Waterville, ME.
We are so happy that Shelby has found her perfect forever home. Shelby came in with some serious medical issues. She had been hit by a car and left to heal on her own by her owners. They could not afford expensive surgery to repair her hip and just let it heal as best it could. She was able to get around on 3 legs and run like the wind, but she was in pain and needed major surgery. We got Shelby the much needed surgery, which was a major process, removing the femoral head and leaving her with no knob in her hip socket. Small dogs do quite well with this procedure and soon gain the use of their leg. Shelby is a tough little cookie and is doing fantastic!
Congratulations Schadlich Family on your adoption of this sweet little pug mix!
Thank you to the Sugai Family for fostering Shelby and seeing her through this process.
---
2/9/14 Lulu Two has been adopted by Debra and Wilfred Bell of Northfield, VT. Debra has had pugs for many years and just recently lost her 20 year old pug Molly. Deb currently has a 5 year old male pug named Bandit, but was missing a little lady pug. Lulu two is the perfect little Diva Pug and is exactly what Deb has been missing! Lulu is a very young 10 year old pug and is fully prepared to deal with a youngster like Bandit - and then some!

Congratulations Bell Family and Lulu Two. This is a true Love Connection!!
---
2-9-14 Zoe has been adopted by Rita Glidden of Middlebury VT. Zoe is a beautiful 3 year old Puggle (Pug/Beagle Cross) who was surrendered to GMPR because a family member developed allergies. Zoe is one of those perfect dogs who gets along with, cats, kids, people, and just about any situation that comes along. Rita has been looking for the perfect companion to keep her company while her husband is trucking on the road. Zoe and Rita connected immediately and will have lots of one on one time together.

Congratulations Rita and Zoe!
---
1-26-14 Lulu has been adopted by Joanne Crawford and Family of Hinesburg, VT. Lulu will reign as Queen of the home. She has two boys and and a big Lab named Astro to do her bidding! Congratulations to the Crawford Family and Lulu. We hope to see you at upcoming pug events, especially the Social in September.
---
1-17-14 Miguel has been adopted by Shawn and Liz Robinson of Enosburg Falls, VT. Shawn and Liz have been owned by pugs for many years. They currently have a GMPR Alumni Pug named Mia. They lost their male pug last fall and have decided that they are now ready to add another pug to their family. Miguel is a perfect fit and just what they have been looking for. The Robinson's attend our Pug Social every year, so we will see them in September!
---
1-14-14 Precious has been adopted by Tina and Mike Bushway of Contoocook, NH. Mike and Tine recently lost their male pug, Bronson, to cancer and have been looking for another pug. They have always had male dogs, so this time decided to try a female pug. Precious who is now named Clarice, is the perfect little "Diva" pug for them.
---
1-5-14 Henry was adopted today by Dottie Woodworth and Family of Exeter, NH. Henry is a 3 year old, black, male Bug (pug/Boston terrier) who was rescued from a puppymill in PA. He is a sweetheart, but skittish until he learns to trust you. Henry joins Dottie's 9 year old pug, Tom. Both dogs hit it off immediately and Henry and Dottie took a real liking to each other right away.
---
1-4-14 Bear has finally been adopted! After 4 months in foster care, Bear has been adopted by Strout Family of Gray, Maine. Bear joins a new pug sister, Molly Strout, who loves to hang out on the couch like he does. Thank You Strout Family for adopting this "differently abled" pug who deserves nothing but the best.
---
1-3-14 Chunk has been adopted by Paige Sturgeon and Family of Moultonborough, NH. It was love at first sight for the kids and Chunk! They will enjoy growing up and playing together for many years to come. Congratulations all around, and we do hope to see you at the Pug Social in September!
---